Bloom triple coupons loot! ;) Three trips...
Trips 1 & 2: spent 14.28 saved 90.08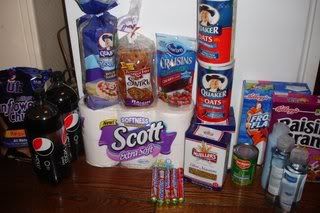 Trip 3: spent 2.88 saved 42.63!!!
I took one other trip late Sunday and spent 18.34 saved 41.58 got things such as: hamburger meat, turkey meat, ocean spray juice, cream of wheat, broccoli, potatoes, sour cream, suave shampoo, 5 boxes of frosted flakes!
In case you are wondering, the things that I have mulitples of (like the frosted flakes and sauces) I share those with my family/friends b/c they gave me overage...meaning with the coupon, I got money BACK for taking the item off the shelf! ;) Yahoooooooooooooooo! How exciting! I love this game!